Sample wedding menus
Here are just two examples of typical wedding celebration menus. Of course we can create any menu according to your desires.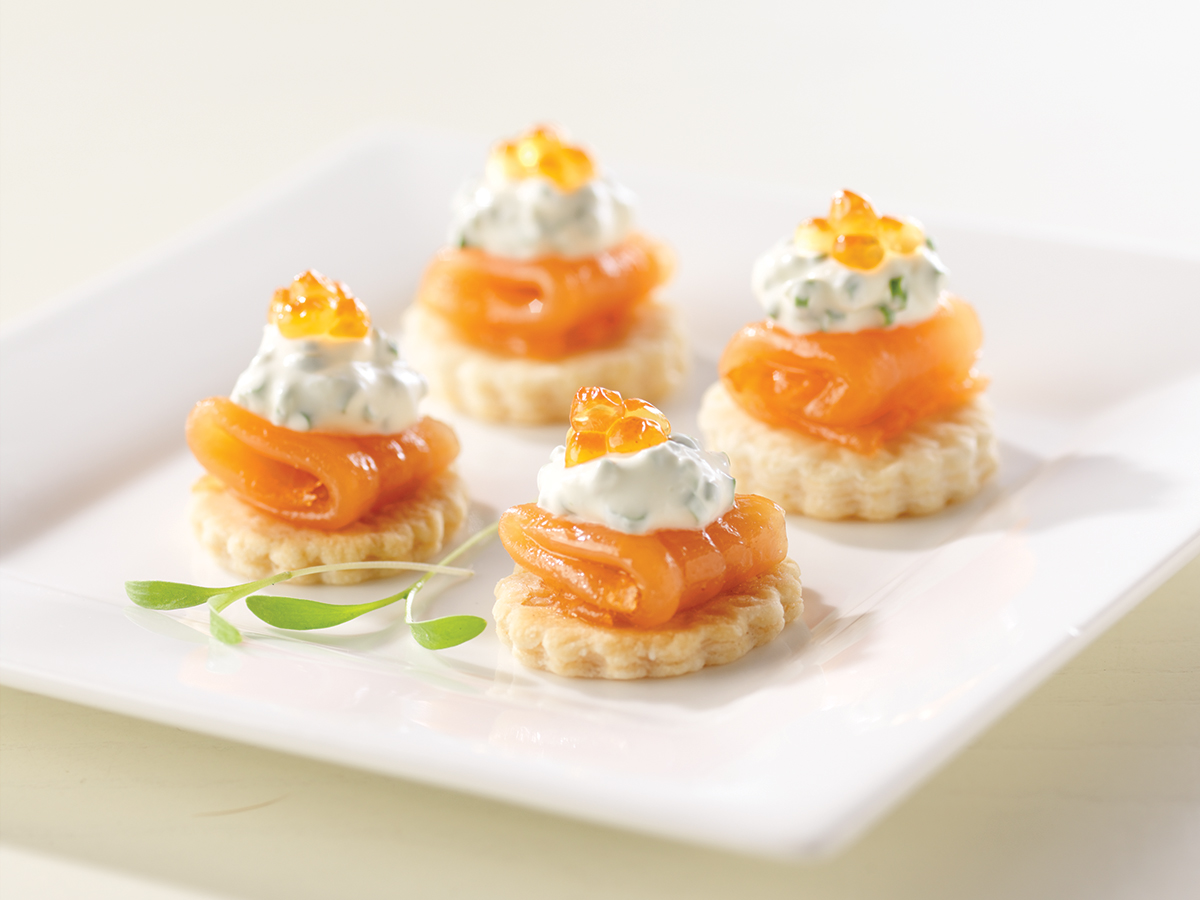 Wedding Menu 1
Passed hors d'oeuvres
Phyllo Cups with brie, caramelized apples, toasted walnuts and baby red mustard
Chilled Sweet Pea Soup with preserved lemon, curry oil, and crème fraîche served in a demitasse cup
Mini BLT with local heirloom tomatoes, Alderfer's pepper bacon on brioche with basil aioli, fried basil leaf
Smoked Salmon Napoleons with a chive cream and crispy fried shallots
Eggplant Crisps with herbed goat cheese and a minted tomato fondue
Jumbo Lump Crab Cakes with a sweet pepper jam and fresh chervil
Tuna Squares with a green olive tapenade and micro celery
Roasted Filet on crostini with an arugula pesto and frico

First course
A Salad of Blue Moon Acres Organic Micro Greens pea greens, baby red mustard, mizuna, blood sorrel, nasturtium flowers and popcorn shoots served with a light citrus vinaigrette
Baskets of Artisan Bread and Rolls with Sweet Butter on the tables

Main course (Choice of two entrees)
Pan Roasted Peking Duck Breastand Confit "Sausage" served with a Fresh Blackberry Sauce
Short Grain Brown Rice and Wild Rice Pilaf
Braised Summer Greens with Smoked Bacon
Pan Seared Grouper with an Oven Roasted Tomato, Olive and Caper Sauce with Fresh Basil Fregola Sarda with Spinach, Toasted Pine Nuts and Currants
or the vegetarian option
Crispy Eggplant Napoleon with a Ricotta and Goat Cheese
Short Grain Rice Pilaf with Pine Nuts Currants and Sautéed Baby Arrowhead Spinach

Dessert course
Wedding Cake
A Dessert Table with Mini Blueberry Tarts, Lemon Curd Tartlettes with Fresh Raspberries, Mini Pecan Pies, Belgian Dark Chocolate Brownie Diamonds, Mini "Smores" Cookies
Fresh Brewed Coffee and Herbal Teas

Late night
Mini Philly Cheese Steaks
Mini Grilled Cheese Sandwiches
Mini Kobe-style Sliders

Super late night
Freshly Popped Popcorn
Mini Chocolate Milkshakes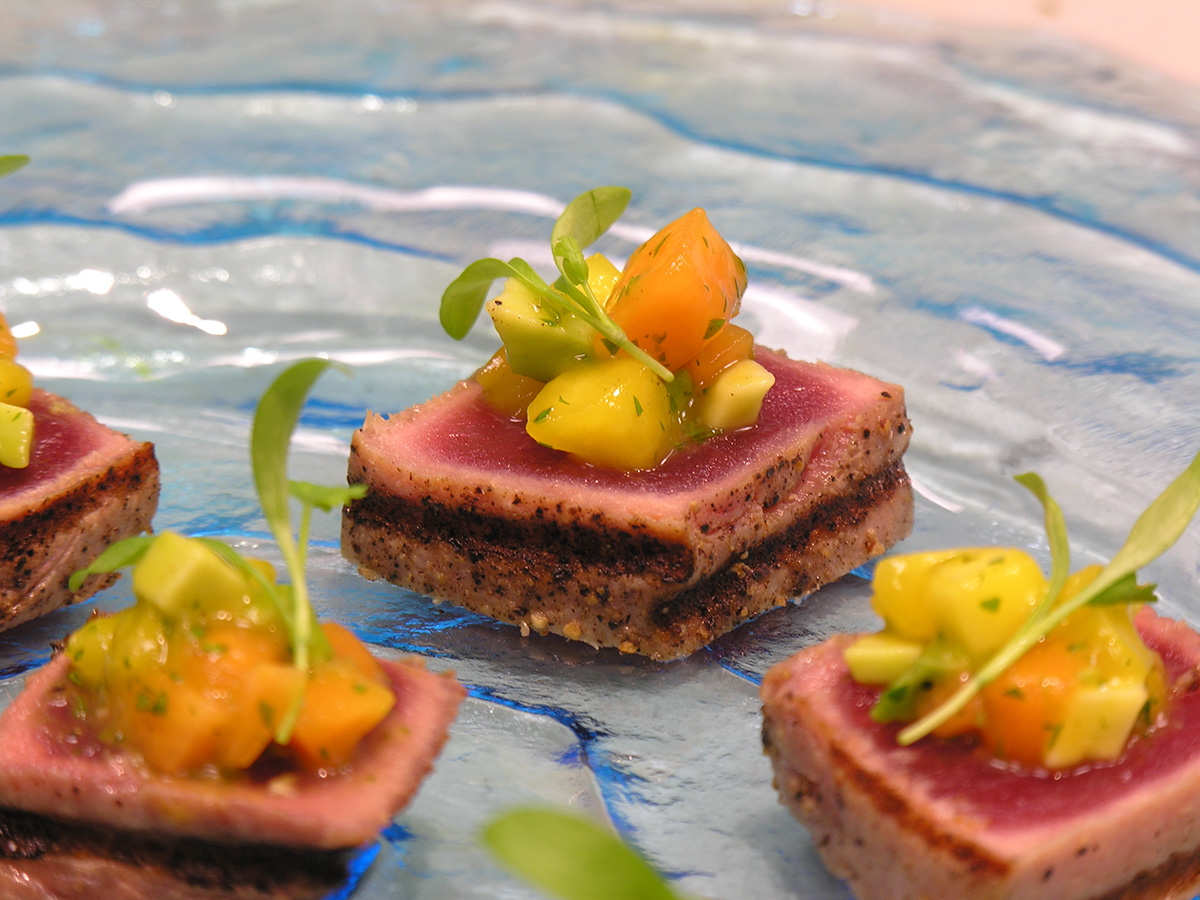 Wedding Menu 2
Passed hors d'oeuvres
Will's silken chicken liver mousse with Solebury Orchards pear butter and crunchy salt on a crostini
Compressed seedless watermelon, red and yellow with aged balsamic vinegar and vanilla Salt
Wonton crisp with Peking duck breast, pomegranate molasses, pickled cucumber and scallions
Mini Kobe style sliders with Pierre Robert, melted onions, pickles and Hellman's mayonnaise
Kosher pigs in blanket made with Hebrew National hot dogs and real puff pastry
Grilled sushi tuna squares with a mango and avocado salsa and micro cilantro
BLTs with sourdough crisp, oven roasted tomatoes, garlic aioli and fried basil
Falafel crisp with a cumin-scented hummus, Raita and micro celery
Herb roasted lollipop lamb chops with a fig and olive tapenade
Maine diver scallops wrapped in apple smoked bacon
Smoked Salmon Bar
Max Hansen smoked salmon with traditional nova style smoked salmon and pastrami cured smoked salmon served with a selection of delicious breads; NYC flagels, bialys, artisan rye and pumpernickel.
Sliced tomatoes, onions, capers and a chive butter
Cured wild Pacific salmon roes: smoked, vanilla cured and sake cured
Lemon crème fraiche, challah crisps and homemade potato crisps
Summer Vegetable Station
An heirloom tomato salad with green, red, Sungold cherry tomatoes with fresh basil, cracked black pepper and extra virgin olive oil
A green zebra, stripped German and watermelon gazpacho with a jalapeno foam and cilantro oil
Bruschetta with Black Krim tomatoes, Max's fresh garlic, heirloom basil and fresh 2009 extra virgin olive oil
None Such Farms fresh corn cakes with wild blackberries and local thyme flower honey, fresh corn tamales with duck confit "Carnitas" served with a tomatillo salsa
Salad of julienned zucchini and yellow squash with toasted Spanish Marcona almonds
Dinner Table Accoutrements
Gourmet salt caddies for the tables with Murray River pink salt from New Zealand, Black Lava salt from Hawaii, Crystalline Geometric flakes from Cyprus
Herb infused extra virgin olive oil with nicoise olives and oven-dried heirloom cherry tomatoes
Artisan breads and tuscan rolls from local bakeries
First Course
A Progression of Tastes (trio presentation)
Sweet pea shooter with preserved lemon, curry oil and organic pea shoots
Roasted beet Napoleon with toasted walnuts and a walnut oil and aged sherry vinegar vinaigrette
Ratatouille served with a Sungold cherry tomato coulis and espellete smoked paprika
Plated Entree
Slow braised Pineland Farms boneless beef short ribs with a rich ancho chile glaze
A halibut fish cake served with a sweet pepper jam and lemon Aleppo Oil
Accompanied by puree of Yukon Gold potatoes with fresh chives
Medley of Blue Lake beans, snap peas, cranberry beans and baby bok choy glazed with a miso butter
Dessert
Carrot cake wedding cake served with mini flutes of champagne
Classic apple tarts
Dark chocolate "pudding" with a summer berry salad
Coffee, decaf and herbal teas
Late Night/Early Breakfast
Mini stack of pancakes with Vermont maple syrup
Mini Eggs Benedict on homemade muffins with smoked salmon and Béarnaise
Jodi's mini scones with homemade strawberry preserves
Belgian chocolate brownies
Classic petit fours

4723 Point Pleasant Pk
Doylestown, PA 18902
(215) 766-3439
© Max Hansen Caterer